| | | | | | | |
| --- | --- | --- | --- | --- | --- | --- |
| | | | | | | |
| STD 3 ¾" | PREM | XL 5 ½" | JUMBO 8" | 4oz. | 6oz. | 8oz. |
| SIZE | DESCRIPTION |
| --- | --- |
| STANDARD | (#000113) Our Most Popular Squid Jig! String Several Together To Catch Arrow Squid - A Must For Every Tackle Box. |
| PREM | (#050019) Standard Size For Normal Squid. |
| XL | (#050057) Perfect For Those Larger Squid. |
| JUMBO | (#050088) For The Big One's! A Must For Long-Range Trips Looking For Bath Towel Size, Calamari Kite Bait - (1.6m/m SQUID HOOKS) |
| WEIGHTED | STD 4"-4oz. (#050026), 4"-6oz. W/XL HD TINES (#050064), and 6"-8oz. W/XL HD TINES (#050033) Great For Catching Squid In Strong Current Conditions. |
---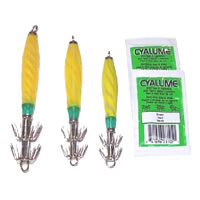 Izorline "Lighted" Squid Jigs
Izorline, who makes and distributes a variety of squid jigs, has just introduced a new "Lighted Squid Jig". A Cyalume light stick fits inside the newly designed squid jig. The light sticks stay illuminated up to 4 hours or more and can easily be replaced. "These new lighted squid jigs catch and attract squid like crazy"!
Izorline Lighted Squid Jigs come with 2ea Cyalume Light Sticks.
Comes in Standard, Large and X-large sizes.
---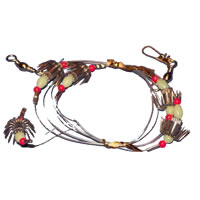 Izorline Squid Gannion
MONO SQUID HOOK RIG - 5 HOOK-190CM
Izorline introduces it's new MULTI-HOOK SQUID BAIT CATCHER. Izorline's new squid bait catchers can retrieve 5 or more arrow squid in one drop! Available at finer tackle shops, along with the other fine squid jigs and weighted squid jigs from Izorline.
---